Haircolor
How to Determine Which Shades EQ Family You Should be Using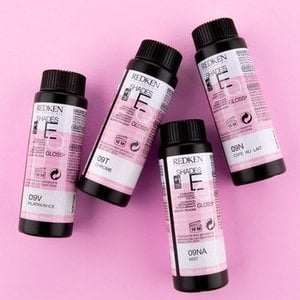 There's perhaps no other Redken color product more iconic than Shades EQ, a staple for more than three decades. "Stylists will say that as long as they have hairspray, they can create any style. If a colorist has Shades EQ, they can create any kind of color," says Redken Artist Lori Zabel. "The fact that it's been around for so long and is still at the top of its game is proof of that." It's fair to say there is clearly no shortage of Shades EQ options to choose from. Below Lori shares her advice for selecting from the classics, plus weighs in on what she likes about a few of the newest SEQ families.
It all starts with basic color principles, says Lori: "When I determine which Shades EQ family I should be using, I think about if I need a base, or do I just need a tone—and if I need a tone, what tone do I need." Take, for example blonde highlights, she says. The hair on the mid-lengths and the ends can easily become too cool, and not match up with a beautiful beige highlight. In this case, you wouldn't need a base, just a tone to match up the ends, she says. Shades EQ makes it easy because all of the families offer what you need, and all you have to do is check the swatch book to determine the tone and base you need, she points out.
A few of the latest Shades EQ families worth noting:
Violet Blue:
"We've had Blue Violet (BV) for some time, but it's exciting that now we have this family. It's one more tool to get that perfect blonde client, because it will help counteract yellow-y orange tones," she says. The three new shades are the perfect way to neutralize unwanted warmth, and can be used either on their own (for a full-strength effect), or diluted with Crystal Clear for less intensity.
Natural Ash:
Talk about trending. "Everyone is asking for that very cool, flat, ashy tone that's all over Instagram," points out Lori. The six shades in the Natural Ash family are perfect for this because they're just ashy enough, without veering into gray territory, she adds. Lori often likes toning the base color all-over with one of the NA options first, pre-highlighting. "It gives hair a nice neutral brown tone, the perfect palette to work off of," she explains. Either way, this SEQ family is ideal for combatting brassiness, while still staying soft and balanced.
Level 10 Shades:
Born out of popular demand, one of the top colorists' requests were for levels higher than 9. Enter these two newbies, Level 10 delicate toners. Ideal for neutralizing and cool or neutral blonde toning, 010VV Lavendar Ice and 010N Delicate Natural are the perfect anti-yellow toners to use on the highest level blondes.
Violet Rose:
We all know of rose gold color as a major trend. The Shades EQ family is now introducing Violet Rose as the star pink reflect family. These four shades are the Redken answer to cool rose colors, making rose gold "cooler." Even better? They can be paired with the four matching Violet Rose shades of the Color Gels Lacquers, for a perfect combination of permanent and demi-permanent color that's pH balanced and delivers both coverage and shine.
*SUGGESTED TO ADD NEW PRODUCT IMAGE WHEN AVAILABLE
Gloss to Gel:
Shades EQ is great because it can go in a bowl or it can go in a bottle, but can be a bit runny, says Lori. Processing Solution for Precision Application turns the classic gloss formula into a versatile gel; with a bit more stick and a little more control to it, it's ideal for detailed work, such as lowlights or a shadowed root. "It also works well if you want to create any kind of special effects or ombré finishes, and also adheres better on hair that's coarse or wiry," points out Lori
No matter which Shades EQ option you go with, they all have the benefit of being an acidic haircolor. Hair is the healthiest when it's in a slightly acidic state, at a pH of 4.5-5.5. Lightening it pushes it into the alkaline state, which is when toning with Shades EQ comes up big. By bringing that pH back down towards the acidic side of things, it helps close down the hair cuticles, leaving it smooth and shiny.